2009: Championship Show
Winners of the Breeders Stakes
Mrs H Lockyer Miccosukees.
Puppy Lineup
BPIB: Bawden and Brown's Khanate April Gem.
BPIB: Mrs H Cox's Foxwood Hi Faluting (BPIS).
BPIB: Brown and Duckett's Bygadsir Lets Get Serious.
BOB: Miniature Schnauzer. Mr Manser Miss English and Krull's Am and SA. Ch. Repitition's Modus Operandi.
BOB: Giant Schnauzer. Mr and Mrs Wengler's Ir.Ch.Foxwood Bombshell.
BOB: Schnauzer. Mrs H Lockyers Miccosukees Give You Extra.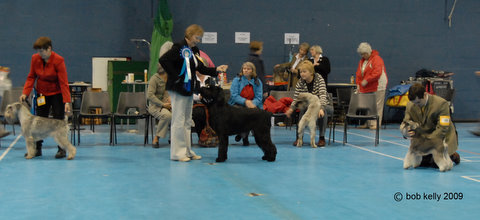 The Final Line up (Left to Right):
BIS: Giant Schnauzer Mr and Mrs G Wenglers Ir. Ch. Foxwood Bombshell.